Visit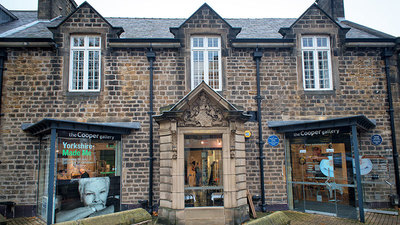 Cooper Gallery
Church St
Barnsley
South Yorkshire
S70 2AH
United Kingdom
T: 01226 775678
Opening times
The Cooper Gallery is open to the public all year round. Please note that exhibition spaces are closed to the public during change of exhibition.
Standard Opening times
Monday - Saturday, 10am - 4pm Closed Sunday and Bank Holidays.
Cafe open 9.30am - 3pm
To book a table or order lunch please call 07470 753315
Gift Shop
The shop stocks a beautiful range of gift ideas all hand crafted by local artists. Pick up everything from prints and jewellery to ceramics and stationery, is really is a treasure trove of delights.
Impressions and Joshua's at the Cooper
The Gallery is home to two warm and welcoming cafes serving a delicious range of food and drink. Impressions is situated inside the Gallery and Joshua's at the Cooper found in the recently converted cottages. Both are perfect for a light lunch or afternoon tea.
**Please note that the café only accepts cash payments. To contact the café call 07470753315
Parking
There is lots of town centre parking available close to the museum, many of which are free at the weekend.
COVID FAQs
Is the Gallery open?
Yes our Gallery is now open.
Joshua's café are currently offering a takeway afternoon tea service.
Do I have to book a ticket?
When we reopen you don't need to book a ticket, just pop along and see us! There is reduced capacity inside the Museum so there maybe a short wait during busy periods.
Do I need to provide personal details?
In line with government guidance, the personal details you provide as part of booking may be used to support the NHS Test and Trace process to control the spread of coronavirus.
This data will be only be made available to NHS to help contain the spread of the virus if an outbreak is identified within our museums or galleries. This is in line with other organisations in the sector as well as businesses such as pubs, restaurants and hotels.
Can you ensure a safe visit?
We have been awarded the Good To Go status, designed by VisitEngland and recognised by the National Tourist Organisations of Great Britain and Northern Ireland. This Industry Standard mark confirms that we have followed government and industry COVID-19 guidelines, have a Risk Assessment in place and a process to maintain cleanliness and aid social distancing.
You will notice some small changes during your visit designed to make it a safe and enjoyable experience:
We'll be limiting the number of visitors to the Museum
We are maintaining a two-metre social distance inside the Museums
There will be hand sanitisers available around the venues
Our shops will only accept cashless payments
Visitors are required to wear face coverings throughout our museums and galleries, including the shop
We have temporarily removed interactive elements to limit people's contact with hard or shared surfaces
We'll be managing toilet facilities to control the number of people in and out and ensuring regular enhanced cleaning takes place
A one way system is in place to prevent overcrowding in popular spaces and some areas remain closed
We will be doing lots of extra cleaning to make sure they are safe spaces for our visitors
Will we have to wear face coverings to visit the museums and galleries?
In line with government guidance, visitors within our museums and galleries are required to wear a face covering in our inside spaces but please let us know if you have an exemption.
Will you be checking people's temperature before they enter the venues?
No, based on the current government guidance and advice, we won't be checking people's temperature.
Will the toilet facilities be open?
Our toilet facilities will be open, with limited capacity to enable social distancing. Our team will be carefully managing these areas so there may be a short wait to use the facilities. All our washrooms will be cleaned thoroughly and regularly throughout the day for your safety.
How can I engage with the museum without physically visiting?
We will be continuing our digital work including virtual tours and events.
Will the gift shop be open?
Yes however payments will be card only.
Who can I speak to if I have a question or need help?
If you have any queries in advance of your visit you can call 01226 775 678 or email coopergallery@barnsley.gov.uk
Our team are excited to welcome you back to our museums and galleries. We have additional staff onsite to keep you safe. Please just let one of them know during your visit if you need any assistance or information and they will be more than happy to help.