Opening times
The Cooper Gallery is open to the public all year round. Please note that exhibition spaces are closed to the public during change of exhibition.
Monday - Saturday, 10am - 4pm
Cafe open Monday - Saturday, 9:30am - 3pm
Church Street, Barnsley, S70 2AH
The Cooper Gallery
A breath-taking display of artworks from the fine art collection at Cooper Gallery. From a dramatic hurricane by Eugene Isabey to a delicate view of the Tigris by David Muirhead Bone, enjoy being swept away or simply glide through more of Barnsley's excellent art.
Artists Pamela Briggs and Ruth Miemczyk return to the Cooper Gallery with an exhibition of paintings and drawings that are testament to the continued involvement and dedication to their art.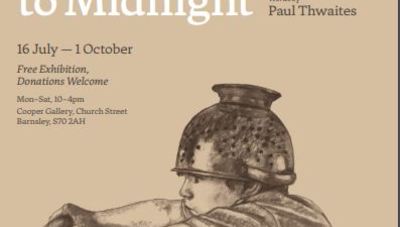 Barnsley Museums' season celebrating the work of Graham Ibbeson continues with the opening of an exclusive new exhibition at the Cooper Gallery, 'High Noon to Midnight' Drawings by Graham Ibbeson, Words by Paul Thwaites