Architectural painting developed into an artform in Western art in the 16th century. Before then, buildings and structures usually formed a backdrop in paintings to the more important figures or story.
Dutch and Flemish artists first raised the popularity of architectural views with their skill for detail and perspective.
In the 18th century, cityscapes became very popular, especially in Italy. An ideal souvenir if you could afford it, a 'veduta' was a detailed view of a cityscape such as Rome or Venice. They were usually large paintings, popular with the wealthy nobility visiting as part of their Grand Tour. Foreign collectors would often be buying to remember their visit but also to show off to people at home about their travels to grand cities.
The Cooper Gallery has amazing examples from different periods and art movements, showing a variety of architecture including Venetian palaces, London factories, mosques and ruined abbeys. Drawings and paintings by English artists JMW Turner, Thomas Girtin and Henry Tonks show sublime skill in the delicate use of pencil and watercolour. The Orientalists John Frederick Lewis and Richard Phené Spiers bring their views of Asia and Africa, contrasting with the industrial landscapes of Nevinson and Sir Charles John Holmes.
'Interior of the Mosque of Suleiman the Magnificent, Constantinople', c.1840
John Frederick Lewis (1805-1876)
Pencil and watercolour on paper
Lewis spent a great deal of his life in Spain and Egypt, also visiting Constantinople (now Istanbul) in about 1840. This mosque was constructed in the 1550s during the reign of Suleiman the Magnificent. Today it is Istanbul's largest mosque and a striking landmark. Lewis's detailed work captures the Islamic architecture of the building beautifully and gives an excellent impression of its grand scale.
Sadler Gift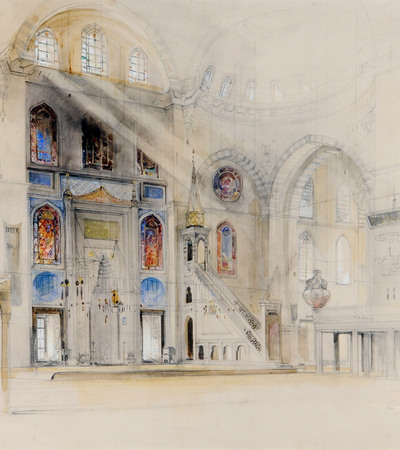 'The Doge's Palace, Venice', 1843
Louis Thienon (1812 – after 1884)
Oil on canvas
Thienon was born in Paris and studied with his father and later with Eugène Isabey. He travelled widely in England, the Continent and North Africa and was very successful. The Doge's Palace is one of the most frequently painted buildings in Venice. The Doge was Venice's political and military leader and the palace his residence and place of business. The white stone and light tracery gives an elegant feel to what is a massive building.
Fox Gift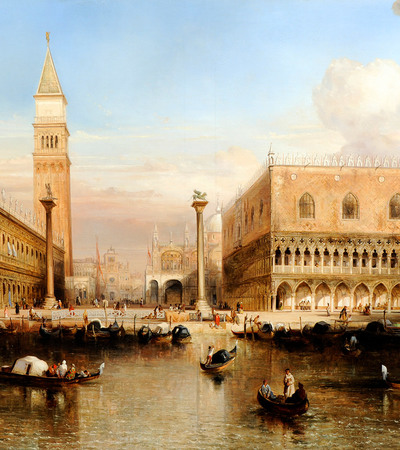 'The East Window of Melrose Abbey', c.1796
Thomas Girtin (1775-1802)
Watercolour on paper
Girtin was a friend and rival of the great JMW Turner. The two men often travelled together to sketch the romantic ruins of the countryside. Girtin toured the North of England and the Scottish Borders in 1796, which is possibly when he visited Melrose Abbey. The Abbey was founded by David I in 1136 and the surviving structures are from the early 15th century. The exterior is decorated by sculptures including dragons, gargoyles and plants.
Addy Bequest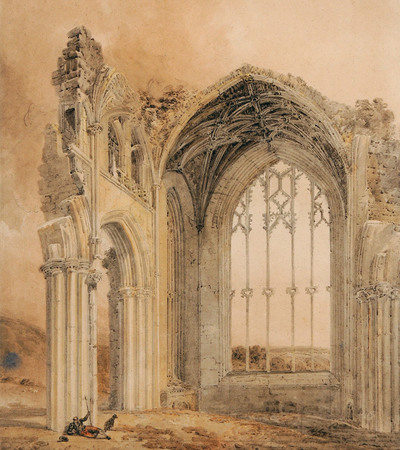 'Piazza San Marco, Venice', mid 19th century
Edward Pritchett (active 1828-1864)
Oil on canvas
Pritchett was a specialist in painting Venice, from wide vistas to more animated spaces such as this one. He is also something of a mystery as very little is known about his life. This painting shows the entrance to the grand Basilica di San Marco on the right, with a crowd of people in the square. The perspective emphasises the impressive building looming over the square with its warm rose and gold colours.
Addy Bequest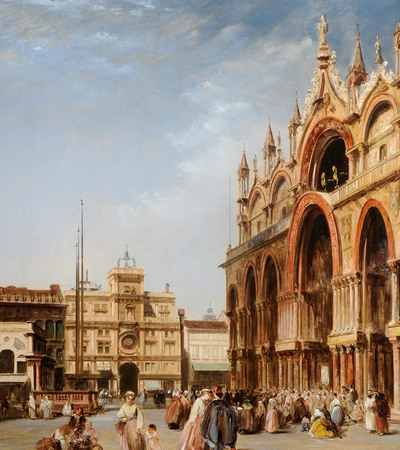 'Railway Bridge, Steel Peech & Tozers', 1918
Sir Charles John Holmes (1868-1936)
Watercolour on paper
This industrial landscape shows a railway bridge close to the steelmaking firm Steel, Peech and Tozer, located near Rotherham. The view is dominated by the arched spans of the bridge with what looks like a steel yard in the foreground and smoke from the works chimney filling the sky. Holmes was an artist, art critic and curator. He was the Director of the National Portrait Gallery and later the National Gallery.
Sadler Gift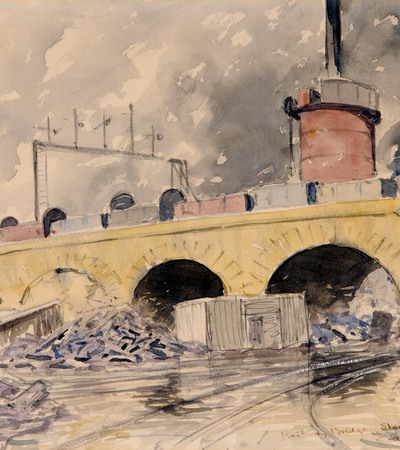 'The New Council Room, Salisbury', c.1805
Joseph Mallord William Turner (1775-1851)
Watercolour on paper
Turner started studying at the Royal Academy schools in 1789 when he was in his mid teens. Along with other young artists he visited the salon of Dr Monro to draw and also to be introduced to potential patrons. In the 1790s Sir Richard Colt Hoare of Stourhead commissioned Turner to draw a series of views of Salisbury, including this one.
Addy Bequest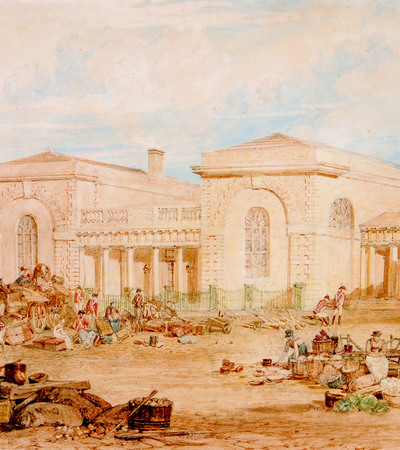 'Factories', 1913
Christopher Richard Wynne Nevinson (1889-1946)
Chalk on paper
Nevinson trained in London and Paris and before 1914 he exhibited widely, exploring a variety of subjects from café society to industrial landscapes. He is best known for the works he created as an Official War Artist during the First World War. This drawing, showing factories and a bridge over a canal, has the sign Gilbeys on the largest building. This may be W&A Gilbey Ltd, a wine importer with large premises in Camden.
Sadler Gift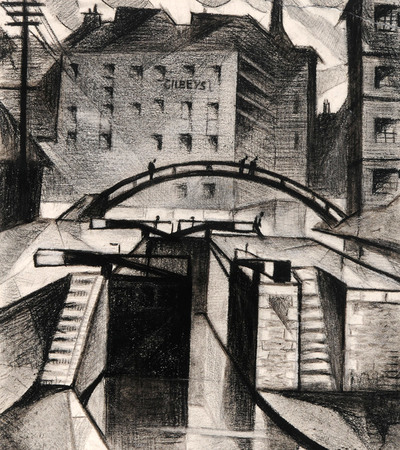 'Trajan's Kiosk at Philae, Egypt', 1869
Richard Phene Spiers (1838-1916)
Watercolour on paper
The temple has been identified as 'Trajan's Kiosk' originally built at Philae on the river Nile in Egypt. It was relocated in the 1960s to the nearby island of Agilika because of the rising river waters. Spiers was an architect and author and taught in the architectural schools at the Royal Academy. He travelled extensively across Europe, the Middle East and North Africa.
Cooper Bequest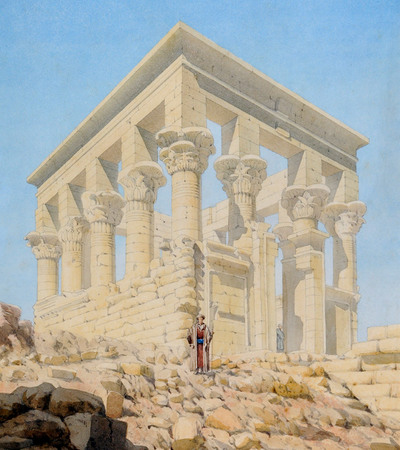 'Interior of St Marks, Venice' 1907-1910
Henry Tonks (1862-1937)
Watercolour on paper
Tonks trained as a surgeon but changed to pursue an artistic career and became a Professor at the Slade School of Art. Impressionism had a great effect on Tonks and he used light and free brushstrokes whilst keeping an overall sense of structure and detail. This painting shows the Porta della Carta, a famous Gothic entrance to the Doge's Palace which also links the building with St Mark's Basilica.
Sadler Gift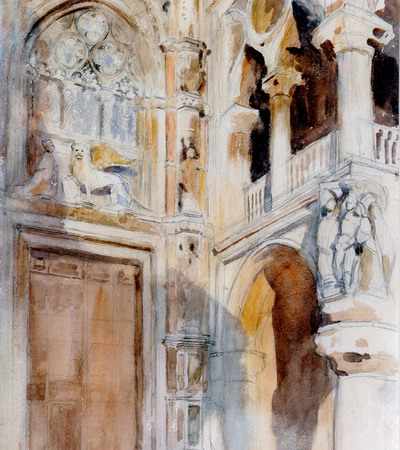 'The Grimani Palace, Venice' 1885
Alberto Pasini (1826-1899)
Oil on canvas
Pasini grew up and studied in Parma. He moved to Paris in 1851 and came under the influence of the Barbizon school of painters. Pasini travelled to the Middle East on several occasions and settled back in Italy in the 1870s. He made his first visits to Venice in the 1880s when he painted this scene. Pasini's painting shows a small and low part of the Palazzo Grimani, which is actually a large and imposing 16th century building on the Grand Canal.
Cooper Bequest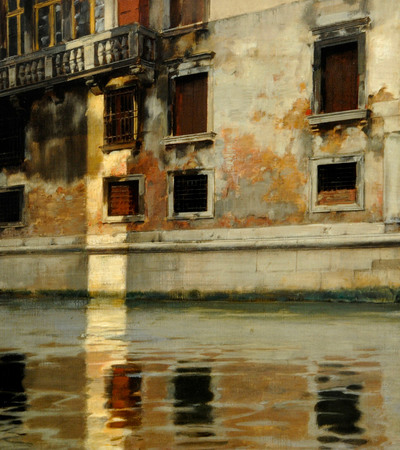 'Church of the Knights Templar, Segovia', 1910s
Wyndham Tryon (1883-1942)
Pencil and ink on paper
Segovia is in central Spain and this building is now the Church of the True Cross. Dating from 1208, it was thought the church was constructed by the Knights Templar. It is now believed it was built by the Catholic knights of the Order of the Holy Sepulchre. Tryon was born in London and studied at the Slade School of Art. He visited Spain in both 1911 and 1914 which may have been when he produced this work.
Sadler Gift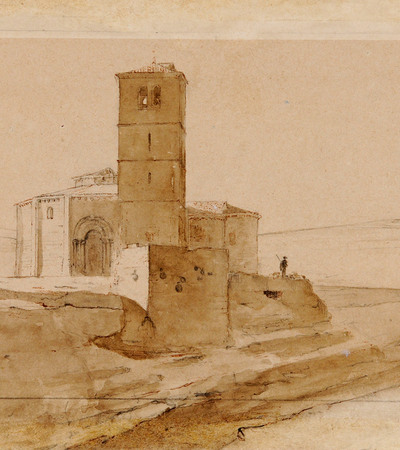 'A Gateway', early – mid 19th century
Samuel Prout (1783-1852)
Watercolour and ink on paper
This work shows the gateway of a medieval building in Gothic style with figures wearing Mediterranean style dress. Prout was a very popular landscape painter in the 19th century who exhibited work at the Royal Academy and the Watercolour Society. He first travelled to the Continent in 1819. He tended to sketch in the open air and add watercolour to his drawings later.
Cooper Bequest