In the 1920s and 1930s, the Cooper Gallery received several gifts of drawings and paintings from the collector Sir Michael Ernest Sadler.
Sadler was a passionate educationalist who believed that art could enlighten and benefit everyone. The motivations for his collecting were numerous and included his love of art, his wish to support living artists and his desire to make art accessible to those around him.
The first gifts of French artworks in 1923 and 1931 were in memory of his parents and of his wife Mary Ann (née Harvey) respectively. The collection donated in 1933 was a conscious effort to create a chronology of art from the mid 18th century to the 1930s. In 1937 Sadler decided to supplement his gift with another handful of drawings, including some by Henry Moore, and by writing a catalogue entitled: 'Notes on a Collection of English Drawings'.
The addition of the drawings in 1937 moved the collections at the Gallery away from traditional art of the 19th century and enabled people to see how life and art were changing dramatically in the early 20th century. In the catalogue Sadler talked about how artists responded to the First World War and discusses how shocking some of images were.
The selection below includes several examples of works gifted by Sadler and also from the Cooper bequest and from Barnsley artist Malcolm Whittaker.
'Study of Stonework at Amiens Cathedral', mid-late 19th century
John Ruskin (1819-1900)
Ink and wash on paper
Amiens Cathedral in Northern France was built in the 13th century and is a stunning example of Gothic architecture, particularly its sculpture. Ruskin regarded Gothic architecture as created from the soul of the working craftsman. On his travels across the Continent, he was devoted to recording these efforts through his beautiful drawings and watercolours. Ruskin is widely agreed to be the most influential writer and art critic of the 19th century.
Cooper Bequest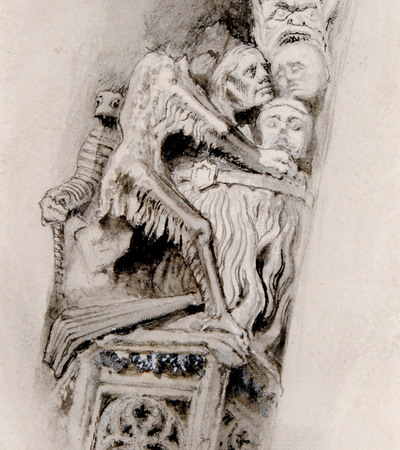 'Olive Trees', 1920
Roger Fry (1866-1934)
Chalk on paper
Fry was a very influential art critic and a member of the Bloomsbury Group. He championed new art movements emerging from France in the late 19th and early 20th centuries and coined the term 'post-Impressionism'. Fry and Sadler were friends and Sadler often went to the exhibitions which Fry curated. In his own work Fry was experimental, producing a number of abstracts, but his naturalistic portraits are considered to be his best works.
Sadler Gift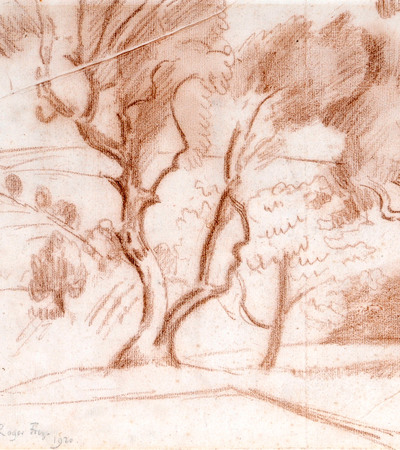 'Figure Drawing', 1956
Malcolm Whittaker (born 1937)
Pencil on paper
Whittaker attended Barnsley School of Art in the 1950s where the students were encouraged to draw figures from life either in the studio or in the town. The man in this drawing was a retired local policeman whom Whittaker persuaded to come to the Art School to sit for the students. The drawing was used to inspire Whittaker's painting of a pub scene completed in 1957.
Donated by the artist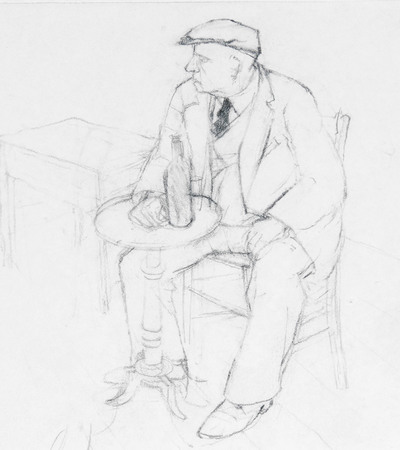 'Tiger', late 19th century
John Macallan Swan (1847-1910)
Pastel on paper
Swan was well known as a painter and sculptor of wild animals and made numerous sketches like this one of wild cats. He studied at the schools of the Royal Academy before spending several years studying with artists in Paris such as Jean Léon Gérôme. After travelling the Continent, he settled in a studio in London, close to London Zoo so he could study the anatomy and behaviour of the animals.
Sadler Gift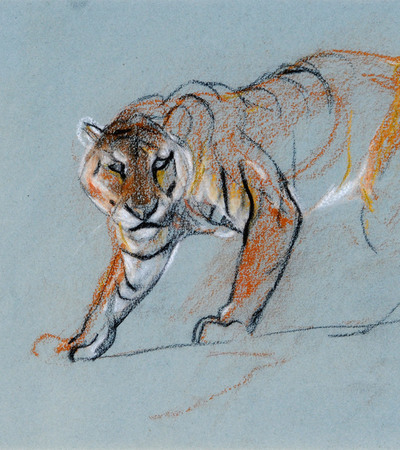 'Trees and Fields', mid 19th century
Théodore Rousseau (1812-1867)
Chalk on paper
Rousseau was born in Paris to parents who owned a tailors shop. He spent a lot of time with an artist uncle, studying nature, and learning in other artists' studios. He made his debut at the Paris Salon at the age of 18 with a landscape from the mountainous Auvergne region. He spent more time in the village of Barbizon in the mid 1830s and settled there in 1844. The Forest of Fontainebleau became his place of inspiration.
Sadler Gift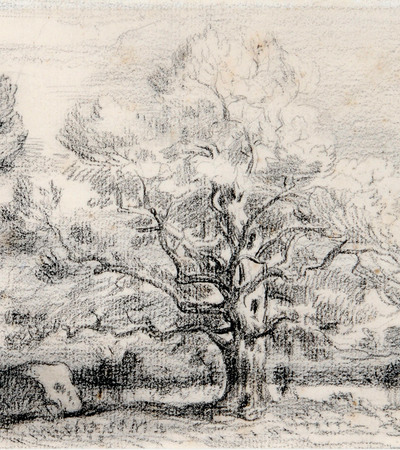 'Vache a l'Abreuvoir (Cow at the Trough)', mid-late 19th century
Jean Francois Millet (1814-1875)
Chalk on paper
Millet was born into an impoverished family in Northern France. Although he painted idyllic scenes in his younger days, he soon began to depict the rural, hardworking peasants who were familiar to him. Many artists of this period romanticised the notion of poverty through their work but Millet preferred to take a more realistic approach. Alongside Diaz and Rousseau, he was a founder of the Barbizon School.
Sadler Gift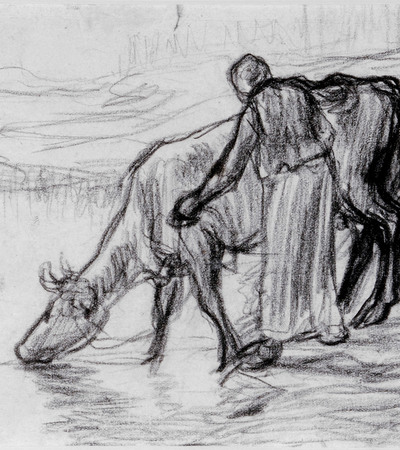 'Deerhounds', 19th century
Sir Edwin Landseer (1802-1873)
Chalk on paper
Landseer was a brilliant and popular animal painter in the 19th century and was particularly favoured by Queen Victoria, who knighted him in 1850. He was born in London and joined the schools at the Royal Academy at the age of 14. In his late thirties he suffered what is thought to have been a nervous breakdown and struggled with his mental health from that time. His family requested he be declared insane in 1872.
Sadler Gift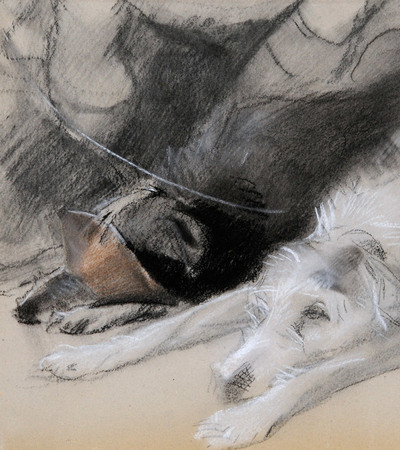 'Study of a Kneeling Arab', mid-late 19th century
Jean Léon Gérôme (1824-1904)
Pencil on paper
The French artist Gérôme was commercially successful and critically acclaimed, exhibiting at the Salon in Paris regularly. A sketch such as this one would have been made in preparation for a finished piece. Gérôme visited the Middle East between 1854 and 1872 and spent much time in Constantinople and Cairo. These trips inspired many works now thought to be among the finest in the Orientalist genre.
Cooper Bequest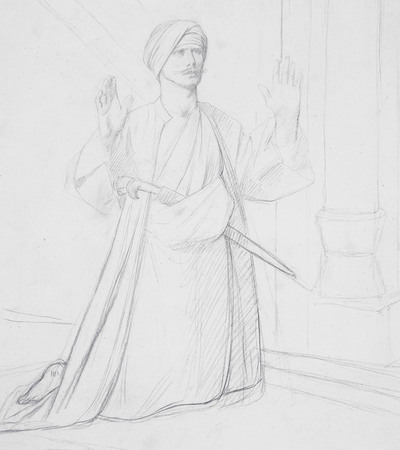 'Bermuda', 1924
Owen Merton (1887-1931)
Watercolour on paper
A sketch in watercolour, this light work shows white buildings, a clear sky and a palm tree to create a tropical location. Merton was born in New Zealand but spent his early years in England as well as living in France and New York. It was in America that he developed his style and became recognised as a key figure in the modernist art movement. Merton visited Bermuda, Europe and Algeria in the early 1920s.
Sadler Gift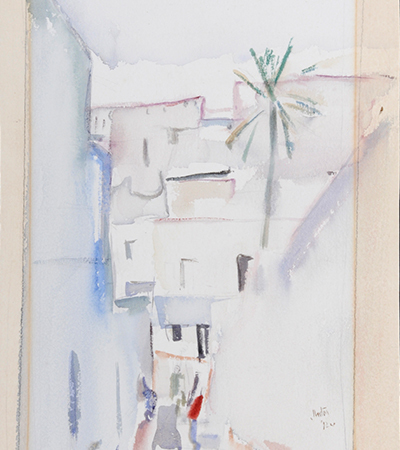 'Boats in a Mist', early 19th century
John Le Capelain (1814-1848)
Ink and wash on paper
Le Capelain grew up on the island of Jersey, learning how to paint without any formal training. He moved to London and continued painting watercolours, becoming well known for the misty effects seen in this work. Queen Victoria was presented with some of his drawings when visiting Jersey in 1846 and commissioned him to paint pictures of the Isle of Wight. Sadly whilst undertaking this work the artist died of tuberculosis at the age of 34.
Sadler Gift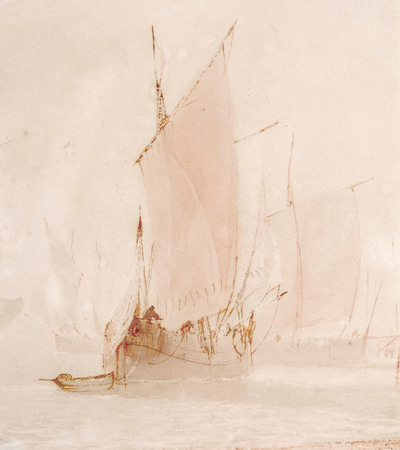 'Study of a Female Nude', late 19th century
Attributed to Sir Edward Coley Burne-Jones (1833-1898)
Pencil on paper
Burne-Jones was associated with the Pre-Raphaelite Brotherhood of artists and was influenced by William Morris and Rossetti. He created paintings of medieval and mythical subjects, often with female figures as the focus. Sadler donated the drawing in 1937 believing it to be by Burne-Jones but there is no reference to a related finished painting. There are many full length and portrait female studies by Burne-Jones in public collections including Tate Britain.
Sadler Gift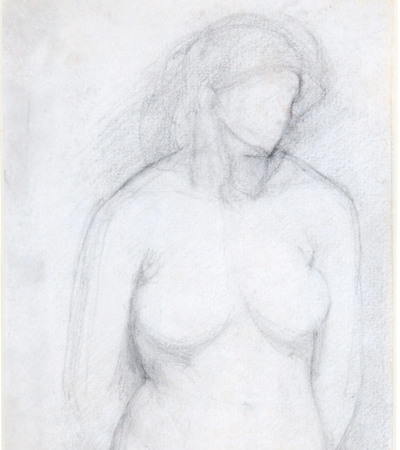 'The Apotheosis of Saint Francis', mid 18th century
Francesco Fontebasso (1707-1769)
Ink on paper
This drawing depicts angels guiding St Francis of Assisi to heaven. St Francis is one of the most important figures in Christianity, known for his compassion for the poor and respect for the natural world. Fontebasso was a Venetian painter and etcher who mainly worked on decorating grand palaces and churches. He was greatly influenced by Giovanni Battista Tiepolo, producing pen and wash drawings and book illustrations, as well as working in fresco and on canvas.
Cooper Bequest