Today landscape painting is an accepted, plentiful and admired form of art. But until the 17th century, landscape in Western Art was confined to the background of portraits or history painting.
French painters Claude Lorraine and Nicholas Poussin gave it more prominence, but still highly stylised their works, which became known as classical landscape. Dutch painters of the period were also developing a much more naturalistic way of representing the land around them.
Landscapes in general became more popular in the 18th century, but it was in the 19th century when many artists started exploring the fields, forests and mountains for their natural beauty. Constable and Turner are two of the best known British examples of this, but in France it was the Barbizon School and their associates who experimented and pushed the boundaries of accepted subjects, paving the way for Impressionism.
At the Cooper Gallery there are two collectors who stand out as favouring landscapes – James Fox and Sir Michael Ernest Sadler. Fox collected traditional oil paintings of British landscapes, of very high quality by established 19th century artists. Sadler's love of sketches and watercolours range in period and style from Dr Monro and Francis Towne to Edward Wadsworth and Paul Nash. Explore the range of contrasting views below.
'In the Forest of Fontainebleau', 1864
Narcisse-Virgile Diaz de la Pena (1808-1876)
Oil on canvas
Diaz was born in France to Spanish parents and trained as a porcelain painter. He became a prominent landscape artist, closely associated with the Barbizon School. Barbizon was a small village near the Forest of Fontainebleau where several mid-19th century artists gathered to paint landscapes and rural life, often in the open air. Mr Cooper bought this work whilst he was in Paris in 1864, the year it was painted.
Cooper Bequest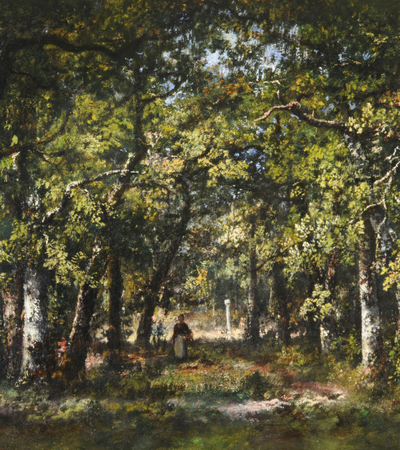 'Study after Turner', mid-late 19th century
Hercules Brabazon Brabazon (1821-1906)
Watercolour on paper
Born in Paris, Brabazon's family moved to East Sussex when he was nine. He graduated from Cambridge with a mathematics degree but chose to study music and art in Rome, spending the rest of his life as a gentleman traveller and painter. Brabazon favoured watercolours and his style was one of loose paint handling and vibrant bodies of colour. He greatly admired and emulated Turner and was himself admired by John Ruskin for his modern style.
Sadler Gift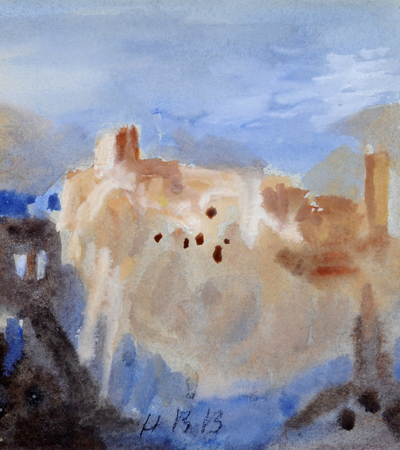 'Evening Landscape with Cattle', mid 19th century
Frederick William Watts (1800-1862)
Oil on canvas
Watts was a passionate painter of the English landscape and greatly influenced by the work of John Constable. He was a prolific and successful artist with a distinctive style. He lived in Hampstead for most of his life, but painted outdoors all over the country. This painting is a typical example of his work, with the atmosphere created by the autumnal colours and the setting sun reflected in the clouds.
Fox Gift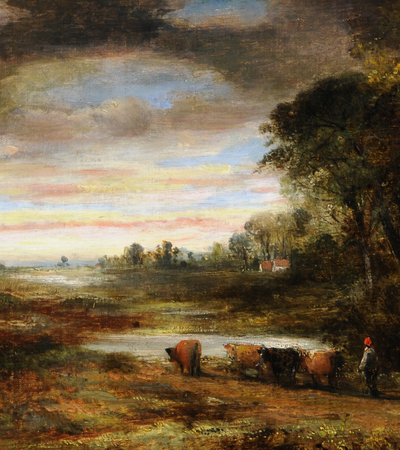 'Wick Church, Bath', late 18th – early 19th century
Dr Thomas Monro (1759-1833)
Chalk and wash on paper
Dr Monro studied medicine at Oxford, after which he was a physician at the Royal Bethlem Hospital, and later personal physician to King George III. He was also a keen artist and ran an 'Academy' from his house, encouraging young artists including Turner and Girtin to study and copy his collection of paintings and drawings. This monochrome sketch is so simple but also manages to create a feeling of movement in the trees and water.
Sadler Gift
'Dead Tree', early-mid 20th century
Paul Nash (1889-1946)
Ink and gouache on paper
Paul Nash was a highly influential figure in the history of modernism in British art. In 1933 he founded Unit One, a group of avant-garde artists. Nash served in the Artists Rifles from 1914-1917 and was appointed an official war artist from 1940-1945. His paintings such as this one have often been interpreted as representing the desolation of war. It is a stark image of a single dead tree amidst a landscape of thriving vegetation.
Sadler Gift
'Greenwich Park', 1857
George William Mote (1832-1900)
Oil on canvas
This large painting shows Greenwich Park in London with the Royal Observatory on the left and Greenwich itself in the background. Mote began his working life as a gardener and taught himself to paint. He completed this painting in 1857 which was also the year he started exhibiting at the Royal Academy. James Fox seems to have liked Mote's paintings as he owned a number by the artist.
Fox Gift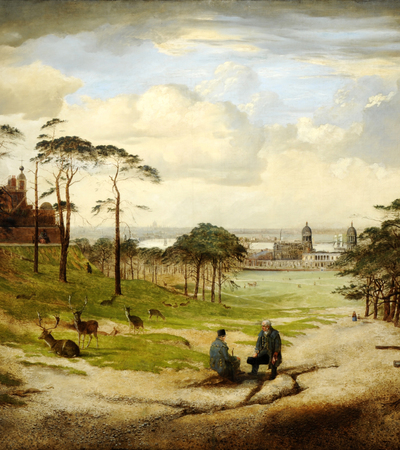 'Atcham Church, Shrewsbury', early 1840s
Peter de Wint (1784-1849)
Watercolour and pencil on paper
The oldest parts of the church in the village of Atcham near Shrewsbury date from the late Saxon or early Norman era. The church was restored in the late 19th century and is now St Eata's. De Wint was a landscape painter born to a Dutch family in Stoke-on-Trent. Like many artists of the time he travelled Britain sketching and producing watercolours of the land and medieval architecture.
Sadler Gift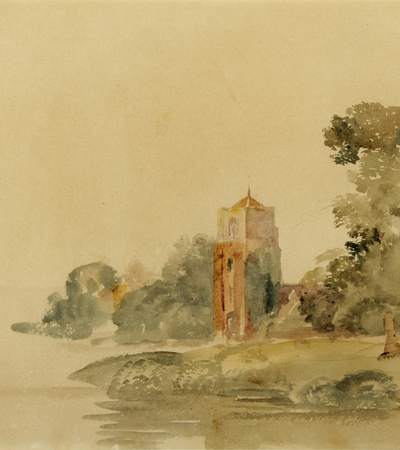 'Woman in a Cabbage Field, Belgium', 1914-1916
Christopher Richard Wynne Nevinson (1889-1946)
Charcoal on paper
Nevinson was a figure and landscape painter, etcher and lithographer. He was also one of the most famous war artists of the First World War. He served with the Red Cross in France and with the Royal Army Medical Corps and his artworks were exhibited in London during the war. Nevinson was born in Hampstead and studied at the Slade School of Art alongside Stanley Spencer, Paul Nash and Dora Carrington.
Sadler Gift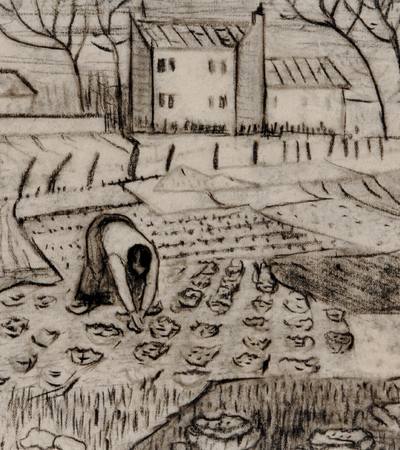 'Camels and Figures Resting in the Desert', c.1860
Victor Pierre Huguet (1835-1902)
Oil on canvas
Huguet was a dedicated Orientalist painter, taking inspiration from his many trips to Libya, Egypt, Istanbul and Algeria. The location of this scene is unknown but it is a beautifully colourful painting with the very fluid brushwork bringing the scene to life. Orientalism, or artists' perceived views of life in North Africa and the Middle East, was very popular in the 19th century.
Cooper Bequest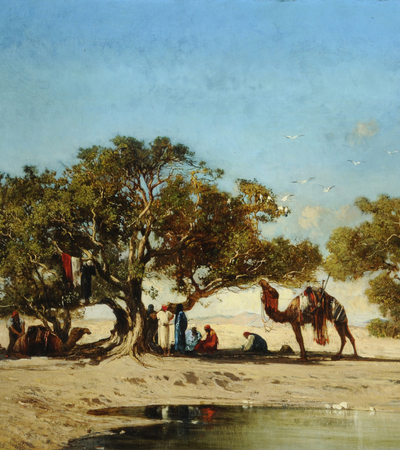 'Ellerby Moor, North East Yorkshire', late 19th century
Frederick William Jackson (1859-1918)
Pencil and watercolour on paper
This bleak landscape has a very low horizon line and is dominated by two sparse trees. Jackson was born near Oldham and after leaving school, studied art at evening classes in Oldham and later at Manchester Academy. He travelled to Paris, Italy and Morocco and exhibited in Paris and London, but chose to settle near Staithes in North Yorkshire. He loved painting outdoors and was a founder member of the Staithes Group.
Sadler Gift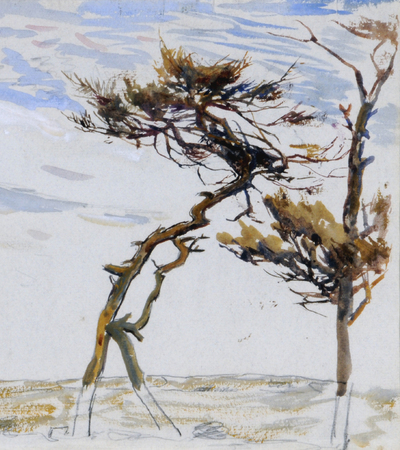 'Industrial Landscape', 1919
Edward Wadsworth (1889-1949)
Ink on paper
Wadsworth was an experimental and influential artist in the early 20th century. He travelled between Liverpool and London by train in 1918 and was inspired by the views of the Black Country in the West Midlands. He returned to sketch the area and developed finished works which were shown in an exhibition at the Leicester Galleries in London in 1920. This drawing along with another in the Cooper collection were included in the exhibition.
Sadler Gift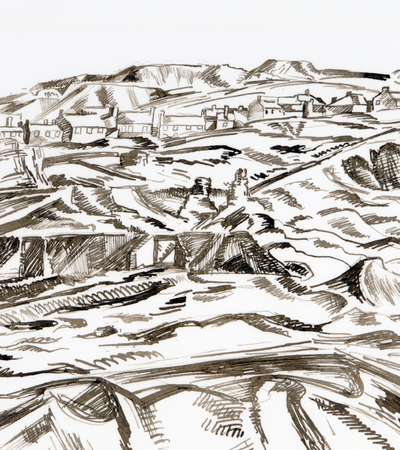 'Sandpits near London', mid 19th century
Edmund John Niemann (1813-1876)
Oil on canvas
Niemann was born in London to a German father and worked as a landscape painter. He was well respected and exhibited at the Royal Academy from 1844 to 1872. This view shows a farmer herding sheep next to sandpits with the city of London on the horizon. In the 19th century there were several sandpits around London, dug to supply sand for local glassworks or the building trade.
Fox Gift