The majority of marine and river views in the collection came as part of the original Cooper bequest in 1913. The Coopers obviously had a liking for seascapes and river scenes, especially those by the French painter Eugène Isabey.
Isabey was well known in the 19th century for his dramatic marine views, most of which show the coast of north-west France. He liked to paint outdoors and he is associated with the Barbizon School who focused on landscape painting often completed 'en plein air'. Isabey was appointed court painter to King Louise Phillippe and was also an official painter to the French navy. His works are less well known in Britain but are represented in many important collections in France including the Louvre and the Musée d'Orsay in Paris. The Coopers would visit Isabey at his studio on their annual trips to Paris.
There is a wonderful array of marine paintings in the collection, from wild and stormy seas to peaceful rural rivers, represented in drawings, watercolours and oil paintings.
'Les Patineurs' 1873
Johan Barthold Jongkind (1819-1891)
Oil on canvas
Jongkind was a Dutch printer and painter who is thought of as one of the forerunners of Impressionism because of his handling of paint. He was influenced by the marine painter Isabey, whose works were a favourite of Mr Cooper's. Jongkind lived in both Holland and France. He was a friend of Eugène Boudin and also influenced the young Monet. This scene with its flat coastal landscape and windmills is likely to have been painted in Holland.
Cooper Bequest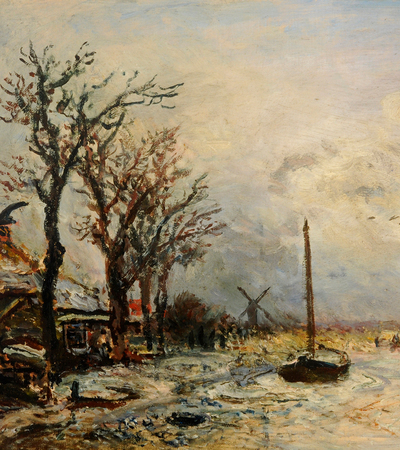 'Palazzo Rezzonico, Venice', 1906
Arthur Meadows (1843-1907)
Oil on canvas
This work shows the gorgeous Palazzo Rezzonico on the left, subtly highlighting the decorative front of the building. The blush of orange sails stands out against the blue skies, and the atmosphere is of a hazy Venetian summer's day. Meadows grew up in the east end of London and was trained as an artist by his father. He travelled to France, Italy, the Netherlands and Venice, painting rivers and coastal views.
Cooper Bequest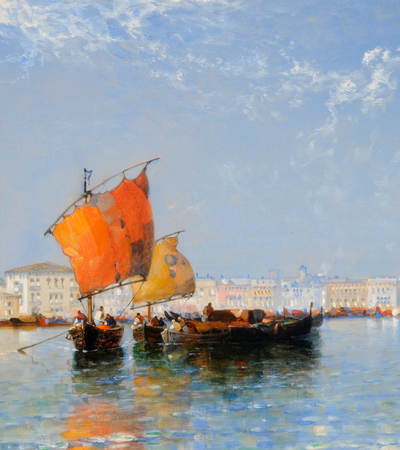 'Shipping in an Estuary', mid 17th century
Reinier Nooms (Zeeman), (1624-1664)
Oil on panel
Reinier Nooms was a Dutch painter and printmaker known for his detailed paintings and sketches of ships. He had been in the Navy for many years before he became established as an artist. His surname was Nooms but he was given the nickname 'Zeeman', which is Dutch for 'Seaman'. Many of his paintings depicted Dutch ships such as these, flying the Dutch flag.
Cooper Bequest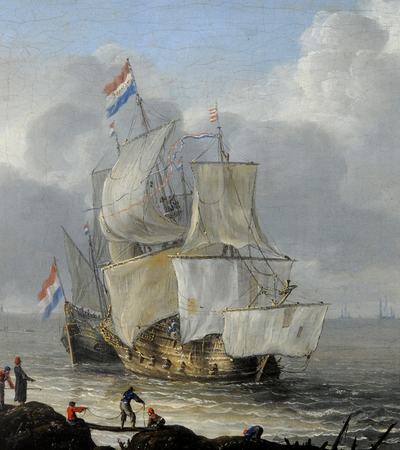 'Irun, from the Bidasoa', 1836
David Roberts (1796-1864)
Watercolour on paper
Roberts spent the years 1832-33 in the Basque region of Northern Spain, where the Bidasoa river is located. Irun is a border town between Spain and France. An engraved copy of this painting, along with others by Roberts, was used to illustrate a guide to Spain published in 1837 called 'The Tourist in Spain: Biscay and the Castiles'.
Addy Bequest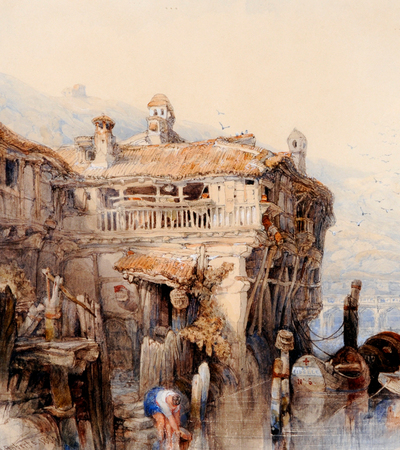 'Women Fishing', mid 19th century
Jean Baptiste Camille Corot (1796-1875)
Oil on canvas
Corot was born in Paris and during the 1820s-1830s he travelled extensively around Europe to refine his skill as a landscape artist. From 1827, he began exhibiting at the Paris Salon and during the 1850s, His reputation in this genre was well established during the 1850s. Corot had a great influence on later 19th century landscape painting, including the Impressionists, especially with his portrayal of light on the landscape.
Cooper Bequest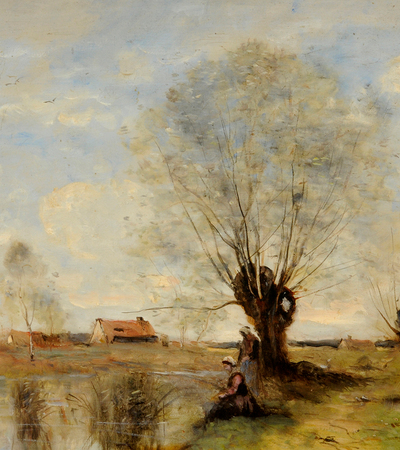 'Vietri and Raito, Bay of Salerno', c.1782
John Robert Cozens (1752-1797)
Watercolour and wash on paper
The son of Alexander Cozens, John Robert excelled in painting and drawing from an early age. He later became known for his atmospheric paintings, particularly of the Alps and Italy after he took two long visits to the continent in the 1770s and 1780s. He was one of the most talented landscape artists of his generation and his drawings were admired and copied by Turner, Constable and Girtin.
Sadler Gift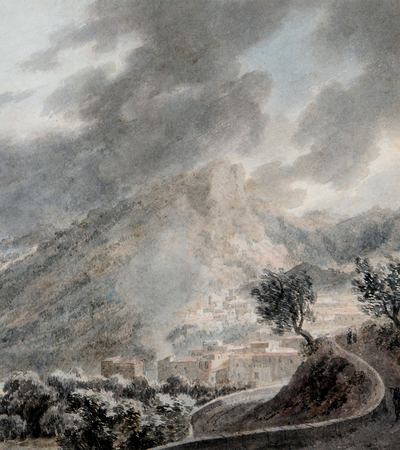 'Hurricane before St Malo', 1860
Eugène Louis Gabriel Isabey (1803-1886)
Oil on canvas
Mr and Mrs Cooper were particularly fond of Isabey's work and often visited him in his studio whilst he was staying in Paris. In 1891 Mr Cooper referred to the painting in his notebook and also commented; 'I saw Msr. Isabey in his studio after and told him I had it and he said it was the finest marine picture he had ever painted.'
Cooper Bequest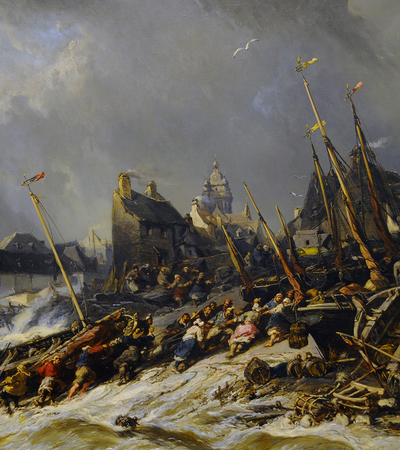 'A Frozen River Scene', 1870s
Adolf Stademan (1824-1895)
Oil on canvas
Adolf Stademan lived in Munich, Germany for most of his life. He was a prominent member of the artistic movement called the Munich School, considered to be an internationally important institution in the later 19th century. This painting is typical of Stademan's style in his later career. He particularly focused on winter scenes and was inspired by 17th century Dutch paintings.
Cooper Bequest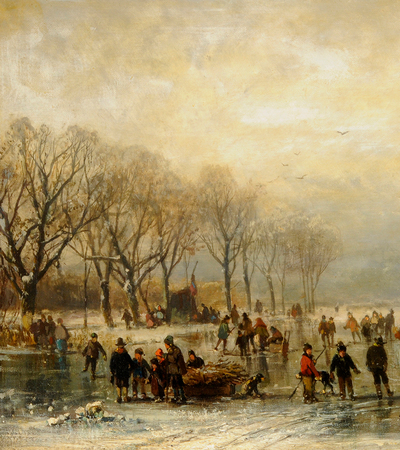 'A Canal Scene, Venice', late 19th century
Rubens Santoro (1859-1942)
Oil on canvas
This painting shows the realist style Santoro favoured in his works. He studied in Naples and became a painter of genre and marine views, specialising in scenes of Venice. This light and colourful canal scene has a calm feel with a skilful combination of the light captured on the water giving a feeling of movement, and the almost photographic quality of the buildings.
Cooper Bequest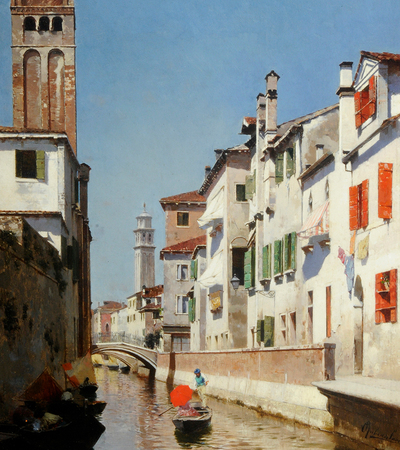 'A Watermill in the Alps, 1837
James Baker Pyne (1800-1870)
Watercolour on paper
Pyne was born and raised in the Bristol area and moved to London in 1835. He was a self-taught artist and was was greatly influenced by the landscape style of JMW Turner. His scenes are conventional in subject, but the colour, fine technique and atmosphere created, set him apart from his contemporaries. He exhibited at many venues and travelled in Europe on commissions.
Cooper Bequest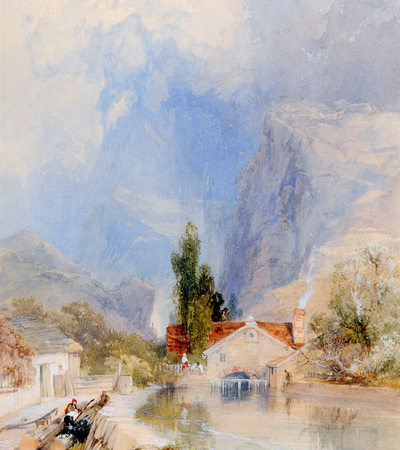 'On the Mersey', mid 19th century
John Callow (1822-1878)
Oil on canvas
Callow was a landscape and marine painter, taught by his elder brother William. He visited Paris with his brother in 1835 and stayed nine years to study. On his return he taught in London and continued to paint and exhibit. This view of shipping on the Mersey shows rough water in the foreground and a vast amount of shipping with a city shown in the distance.
Cooper Bequest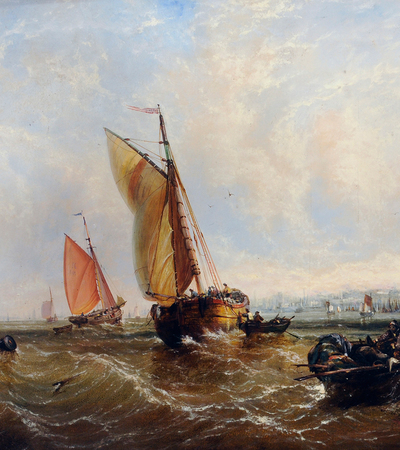 'River Landscape', mid 19th century
Eugène Modeste Edmond Lepoittevin (1806-1870)
Oil on canvas
Lepoittevin was a very successful French artist born in Paris. His most popular works were of marine or river scenes and he painted several historic naval paintings for the galleries of Versailles. There are many of his works in museums in France but this is a rare example of one in a British collection. Lepoittevin painted more intimate scenes of daily life as well as dramatic works on a larger scale.
Cooper Bequest