Interactions between people form some of the most interesting paintings and drawings in the collection. Bustling streets, rural idylls and intimate interiors all offer stories to explore and insights into different societies over the centuries.
We have many examples of 'genre' paintings, or scenes of everyday life. Genre painting mainly developed in Holland in the 17th century. The most typical subjects were scenes of peasant life or drinking in taverns, and tended to be small in scale. Simpler genre painting emerged in the later 18th century and became hugely popular in the Victorian age.
Similar is the conversation piece, an informal group portrait popular in the 18th century. These show groups of people in domestic interiors or gardens. People are often shown interacting with each other or with pets, taking tea or playing games.
Explore the highlights below which includes romantic encounters, political stand-offs and a good bit of gossip!
'The Meeting', mid – late 19th century
Marcelin Delachaux (1838-1902)
Oil on canvas
This painting by Delachaux is a copy of an original by Pierre Charles Comte, which is in the Château de Blois in France. In December 1588 the French King Henry III had the Duc de Guise assassinated. Guise was a powerful rival of the King and the King's mother, Catherine de' Medici. This scene shows the moment earlier in the day when the two men met and the high tension is evident.
Cooper Bequest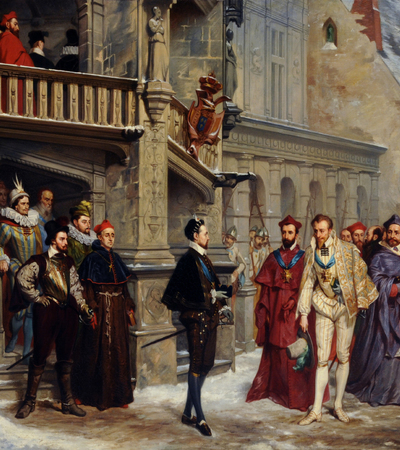 'Sancho Panza Recounting his Adventures', 1860-1885
Henri Charles Antoine Baron (1816-1885)
Oil on panel
Sancho Panza was fictional squire to Don Quixote in the book written by the Spanish author Cervantes in 1605. More of a realist than his master, Sancho nevertheless served him loyally and provides a witty commentary on their adventures. Baron was well known for painting fanciful scenes inspired by myths and literature. Here, Sancho is entertaining ladies with his tales, in a romanticised woodland setting.
Cooper Bequest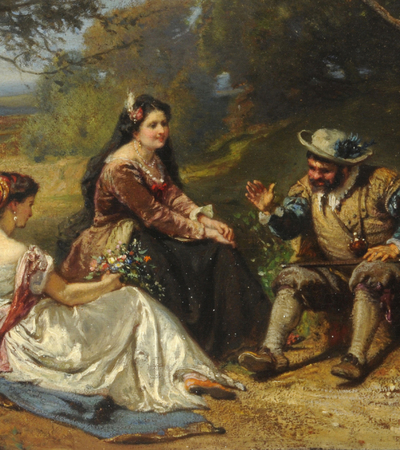 'Café de Galata, Constantinople', 1865-1882
Charles Théodore Frère (1814-1888)
Oil on canvas
Frère was a French artist who travelled in the Middle East and North Africa in the mid 19th century. His paintings were part of the art movement known as 'Orientalism'. This was art which emphasised the exotic and romantic aspects of life in Asia and Africa. Galata is an ancient district in modern Istanbul. This kind of café would have been a popular place to meet, eat, drink, smoke, and have your hair cut!
Cooper Bequest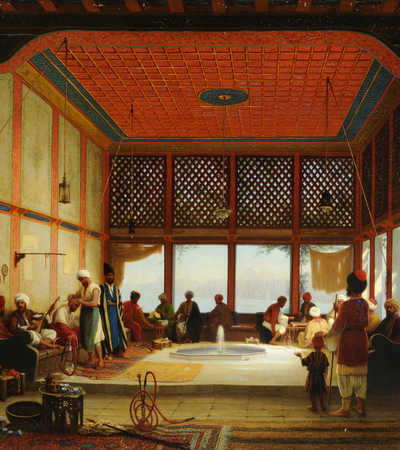 'Shopping', mid 19th century
John Leech (1817-1864)
Pencil on tissue paper
Leech worked as an illustrator and caricaturist, contributing work to magazines such as Punch. His work gently poked fun at Victorian society. This lovely sketch shows two Victorian ladies out shopping, considering a length of fabric they are being shown. To their left a young boy waits patiently to assist them with carrying their parcels.
Sadler Gift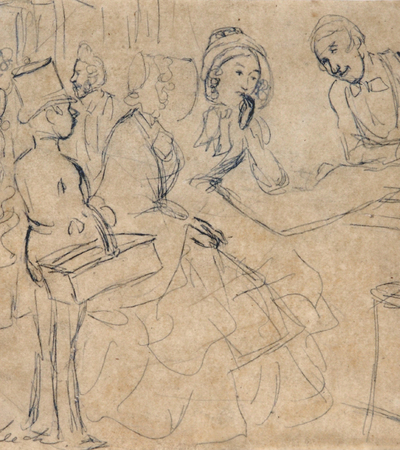 'Dancing Children (after Giacomo Mantegazza)', 1890-1920
Madeline Moore, née De Mirimonde, (1869-c.1917)
Oil on panel
Madeline Moore was a Barnsley based artist who attended the Art School in the town and was a family friend of the Coopers. She had an amazing talent for copying Old Master paintings. Giacomo Mantegazza (1853-1920) was an Italian artist who created detailed, animated and colourful works. Moore has chosen to copy a lively scene of children dancing and playing music in the street, hoping for payment from the guests in the hotel window.
Cooper Bequest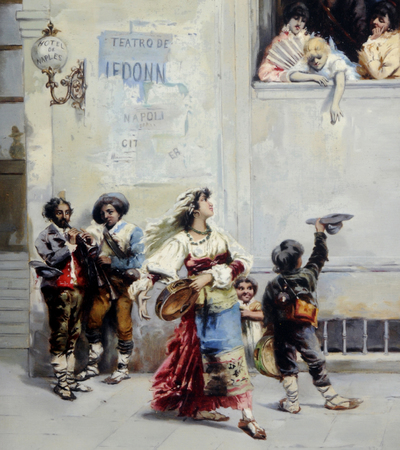 'Village Gossips', 1860
Samuel Baldwin (1818-1891)
Oil on canvas
Little is known about the artist Samuel Baldwin but he was based in the Halifax area of Yorkshire and painted works which combined landscape and figures. This countryside scene is an excellent example. It looks as though the seated lady has paused her clothes mending to talk with her companion. A cottage in the background and the child playing with a toy indicate the one lady is visiting the other for a chat.
Fox Gift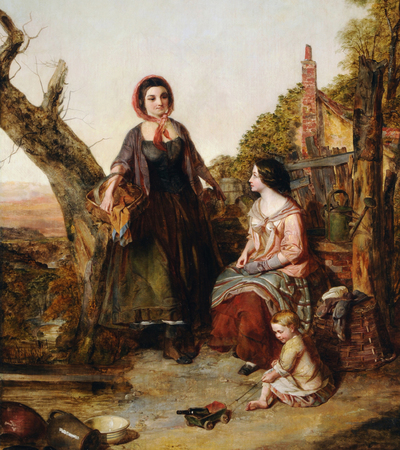 'Tavern Scene', mid – late 18th century
Jan Josef Horemans II (1714-after 1790)
Oil on canvas
This jolly view outside a tavern is by the Flemish artist Horemans, named after his father who was a prolific painter of genre scenes. He earned the nickname 'Le Clair' as his palette was lighter than his father's. Horemans the Younger was a master of the Guild of St Luke in Antwerp. The sharpness of the figures in their clothing and expression is very typical of his work, although he usually painted interior scenes.
Cooper Bequest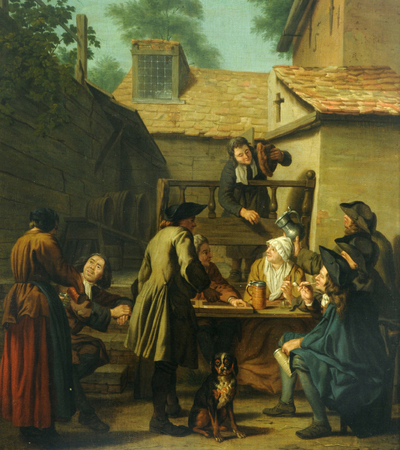 'Interior with Figures', mid – late 19th century
Gustave David (1824-1891)
Watercolour on paper
This romantic scene shows a lady about to be escorted outside by the gentleman to take a walk with the dog. The figures are wearing 18th century style dress. David specialised in portraits and historical genre scenes, mostly in watercolour. Scenes of courtship, in both high and low society, were a popular theme, giving lots of opportunity for expression and storytelling.
Cooper Bequest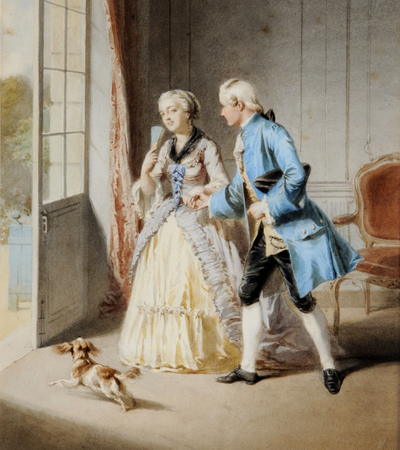 'In the Guard Room', mid – late 19th century
Francisco Aznar y Garcia (active 1834-1911)
Oil on canvas
Born in Zaragoza, Garcia was influenced by the Dutch genre painters of the 17th century as evidenced by this painting. The figures are in period style costume against the kind of dark interior typical of Dutch genre scenes. The figures appear to be guards passing the time or taking a break, playing cards and smoking. Garcia was also a history painter, illustrator and printmaker.
Cooper Bequest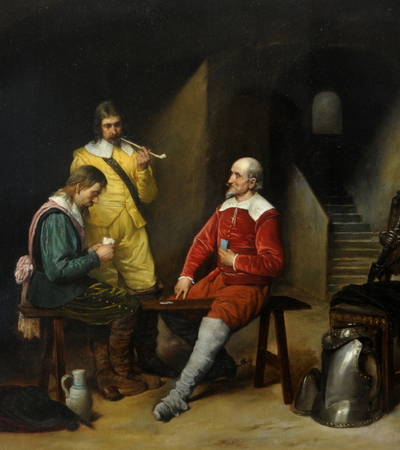 'The Oyster Seller in Town', late 18th – early 19th century
Jacob van Strij (1756-1815) and Johannes Schoenmakers (1755-1842)
Oil on panel
Van Strij was a Dutch painter and printmaker who specialised in genre scenes. These were very popular with middle-class patrons in 18th century Holland. It was not unusual for artists to collaborate on paintings as some would specialise in figures whilst others favoured architecture. In this rather romanticised scene the oyster seller pushes his barrow along the street, pausing to talk to the women selling vegetables.
Cooper Bequest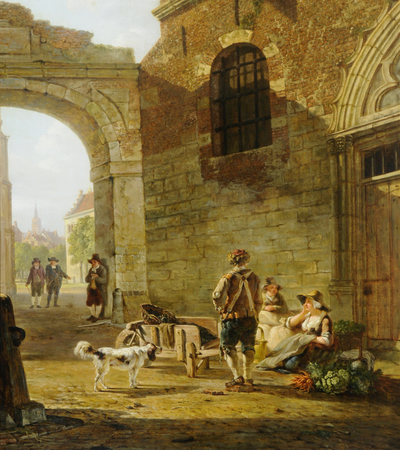 'Gallants Outside a House', late 19th century
Charles Henri Pille (1844-1897)
Ink on paper
This drawing shows a small crowd outside an ornate building. In the middle is a procession of wealthy people led by a very rotund gentleman and an elaborately dressed lady. Pille was a French painter and illustrator best known for his historical and genre scenes, often edged with humour. He was President of the Society of Illustrators, a very successful artist, and counted Vincent Van Gogh amongst his fans.
Cooper Bequest
'Chapel in a Monastery', early – mid 19th century
Francois-Marius Granet (1775-1849)
Oil on panel
Granet was born in Aix-en-Provence but spent a large part of his artistic life in Italy in a community of French artists. He was famous for his paintings of church and convent interiors. Here he has chosen to show a monk kneeling to pray in front of an altar showing a figure of the Virgin Mary holding the Christ child. Grant returned to France in 1824 to become a curator at the Louvre.
Cooper Bequest